FIRST HEATING SYSTEMS S.R.O. – HEATING SYSTEMS WITH A 5-YEAR WARRANTY
FIRST Heating Systems s.r.o. is a Czech family business specializing in manufacturing, developing and marketing heating systems. We pride ourselves on our products combining elegance and efficiency. The secret behind our quality products is the material we are all very familiar with – glass. For it is a highly aesthetically pleasing element that adds a modern and luxurious touch to the design of your homes, apartments, offices, formal rooms and halls. However, ESG tempered safety glass looks sleek and has many fine qualities. All our products are manufactured in the Czech Republic, tested and certified.
ECONOMIC BENEFITS
Low power consumption makes them the most cost-effective panels on the market
EFFICIENCY
The technology is up to 7 times more efficient than conventional infrared panels
LONG SERVICE LIFE
The service life of our reliable infrared panels is up to 50 years
WORLDWIDE SALES
Our panels are sold in more than 21 countries worldwide
QUALITY
Made of high-quality materials in the Czech Republic
EXTENDED WARRANTY
We provide a warranty of up to five years for our products
TIMELESS DESIGN
Contemporary and sleek design for any setting
GOOD FOR HEALTH
An overall positive impact on the health of people in the rooms being heated
FULL RECYCLABILITY
Thanks to the technology used, our infrared panels are environmentally friendly
ZERO MAINTENANCE
Our infrared panels require no maintenance
WHY AN INFRARED HEATING SYSTEM?
It is a state-of-the-art heating system with health benefits
The sun emits infrared rays just like infrared panels of FIRST Heating Systems, which make people feel as warm as the sun
Infrared radiation has a positive effect on mental and physical health
The heating system does not blow dust in the room and does not dry out the room
It is silent – it makes no sound
Availability of custom glass design – an image, photograph, logo
The most powerful solution on the market
Rapid return on investment
With infrared heating, you qualify for a cheap D57d electricity tariff – 20 hours per day
Our panels have a much higher surface temperature compared to the competition.
As a result, they have a better radiant heat effect in the room
Energy-efficient – it converts up to 98 % of electrical energy into thermal energy
Higher efficiency than radiators, infrared heating system heats up the entire room, ceiling, walls and floors
Sleek design – it is made of tempered safety glass that looks sleek and has many fine qualities
With a thickness of 5.8 cm, it saves you space
It has full dust and moisture sealing – IP54
Easy to install – it can be fitted in bathrooms
Our infrared panels require zero maintenance
230V power supply either simply into the socket or directly into the wiring
Quality guarantee backed by a 5-year warranty
The panels are made of quality materials, and all electronic components of the panel are from reliable German manufacturers
Rapid onset of thermal effect. You can feel the heat you would get from a wood-burning stove after just 5 minutes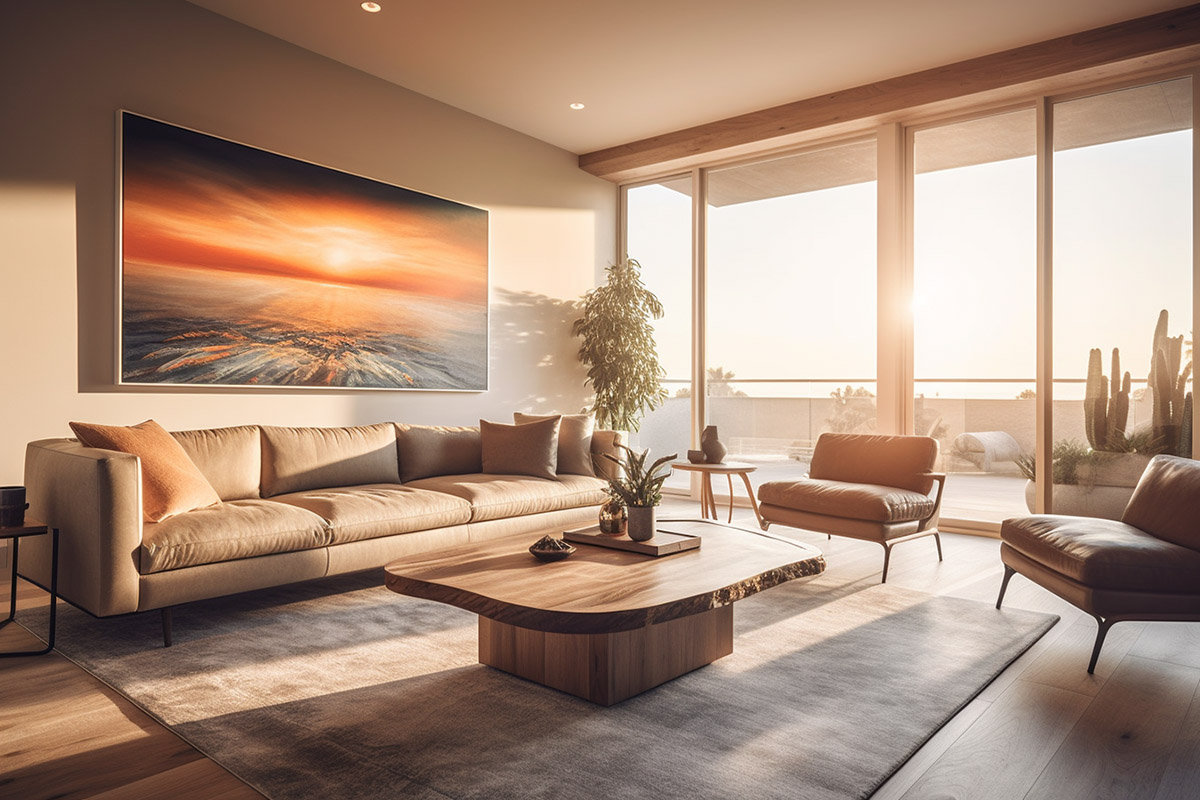 HOT YOGA
Unlike traditional yoga, hot yoga involves practising yoga poses in a room heated to 38–42 °C, even during the coldest winter months. For this reason, a total of 28 frameless infrared panels with a total power input of 38 kW were installed.
CHURCH
Churches have very specific heating conditions, whether we are talking about humidity, size, or the protection of religious monuments placed inside. In this case, a fast-acting heating system was required to create comfortable conditions for worship on cold days. Therefore, frameless infrared panels with religious representations were installed to blend in with the interior décor.
OFFICES
Many people choose to heat their office with electric convector heaters, which not only take up much space, but also do not go easy on their wallet. That's why we installed frame infrared panels in a coffered ceiling, making them blend into the overall design and not get in the way.
COLOURFUL HOTEL
As the name suggests, each room has a different colour, so the heating colour had to be matched accordingly. That's why we used coloured infrared panels to match the colour of the room. In addition, however, the hotel management required that the rooms should be kept comfortable while ensuring that they would only be heated when occupied, for which the infrared panels were ideal because they are completely independent of the central heating system and thus so not only fit perfectly into the interior, but also reduce heating costs.